Finance ministers have pledged to try to boost global economic growth and confront uncertainty about protectionism in the wake of the UK's referendum vote to leave the European Union.
Central bank governors and finance heads from the G20 group of some of the world's biggest economies ended a two-day meeting in China with a fresh pledge to use "all policy tools" to promote growth.
The meeting was a debut for Britain's new Chancellor of the Exchequer Philip Hammond, who faced questions about how quickly the UK planned to formally leave the EU.
A joint communiqué by the G20 said: "The outcome of the referendum on the UK's membership of the EU adds to the uncertainty in the global economy.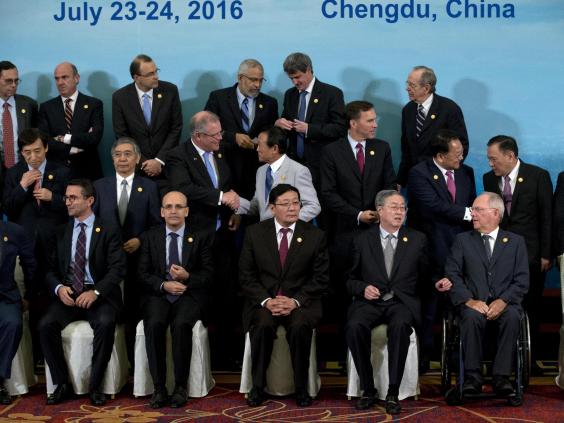 Finance heads meet in China to discuss economic reform. Ng Han Guan-Pool/Getty Images)
"Members of the G20 are well positioned to proactively address the potential economic and financial consequences stemming from the UK referendum. In the future, we hope to see the UK as a close partner of the EU." 
Last week, the International Monetary Fund (IMF) cut its global growth forecasts because of the Brexit vote.
"The Brexit vote implies a substantial increase in economic, political, and institutional uncertainty, which is projected to have negative macroeconomic consequences, especially in advanced European economies," the IMF said.
US Treasury Secretary Jack Lew told reporters it was important for G20 countries to redouble their efforts and us all policy tools, including monetary and fiscal policies as well as structural reforms, to boost efficiency.
Mr Hammond told reporters there would be a measure of uncertainty "right up to the conclusion of our negotiations with the EU".
But said he was struck by the positive response.
According to the Financial Times, he said: "I mean everyone's concerned about the uncertainty, of course, but among the non-EU G20 colleagues, they've all spotted the significant opportunities that there are for greater trade and the potential to do direct bilateral trade deals in the not too distant future with the UK." 
Fears of protectionism, highlighted by Brexit and some of the trade proposals US Republican by presidential candidate Donald Trump, were also discussed during the meeting.
"A lot of concerns were voiced over spreading measures for protectionism," said a Japanese ministry official.
Reuse content